Texas Whitetail Deer Hunts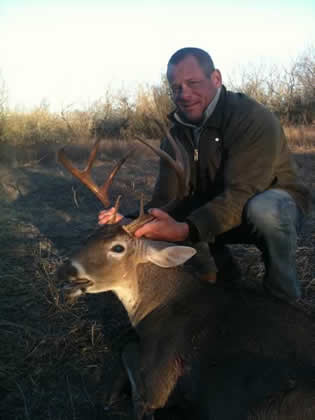 We conduct these whitetail deer hunts on several south Texas and Texas hill county ranches. We offer a three-day and a five-day whitetail deer hunting trip.
Our whitetail trips include meals, lodging, and 4WD transportation. Hunting is done primarily from tower blinds over feeders. We do some horn rattling during the rut, which is predominantly around the last two weeks of December.
We have an excellent whitetail deer game management program implemented on these ranches and also a year-round feeding program. We shoot only mature whitetail bucks. Along with your buck, you may be able to shoot 1 doe, 2 hogs and predators at our discretion. (This is based on pre-season and in-season populations.) We have some very nice bucks on these ranches. You will see a lot of game! We take a very limited number of hunters into each pasture, so call early to reserve your hunting spot.
Trophy whitetail deer hunts are 1-Guide to 1-Hunter.
Wild Hog Hunts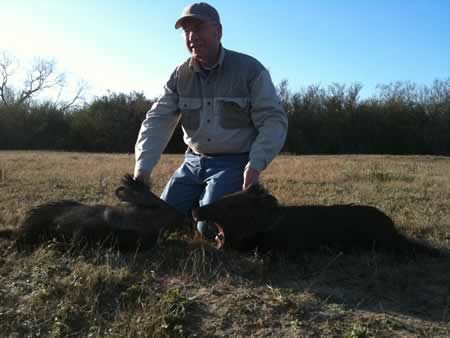 We conduct wild hog hunts on several ranches totaling almost 25,000 acres. Our Hog hunting Ranches are located in LaSalle and McMullen counties in South Texas.
This is a two-day package hunt which includes meals, lodging and 4WD transportation. Hunting is done from tower blinds over feeders, driving ranch roads with high racked hunting vehicles, spot and stalk around water holes and tripods around cattle feeders for archers. You may kill predators, and all the hogs you want as long as you take the meat home with you. That's right - all the hogs you want! We have way too many hogs.
Exotic Big Game Hunts
We offer exotic game hunts year around. Big game animals available for hunting include Axis, Fallow Deer, Sika Deer, Blackbuck, Antelope, Oryx, Addax, Mouflon Sheep, Red Stag and more.
Since these exotic game species are non-indigenous to Texas, they may be hunted any time throughout the year, going on an exotic game hunt is a great opportunity to hunt the off-season with friends, family and children taking in the great weather and spectacular
scenery of the South Texas Brush Country.
All our exotic hunting trips are 1-Guide to 1-Hunter. Please call to discuss available animals and pricing.
Spring Turkey Hunts
We hunt Spring Turkey (Rio Grande) in April and May. There is an abundance of Turkey along the Frio River, which runs through some of the pastures we hunt. Turkey hunts are run by the day. We include meals, lodging and 4WD transportation. Hunt over bait or you call. This is a great hunt to do in conjunction with Wild Hog!
Past Hunts Gallery
Lodging and Accommodations
Lodge Accommodations are provided with ALL Hunting Trips. Please see our Accommodations Page for all the details about our Lodge.
Pricing
Type:
When:
Price:
Details:
3 Day Management Deer Hunt
Nov - Jan
$3250
Up to 139 Class B&C
3 Day Trophy Deer Hunt
Nov - Jan

Call for Pricing

140-150 B&C

150-160 B&C

Above 160 B&C

2 Day Hog Hunt
Year Round
$700
No limit on hogs
3 Day Hog Hunt
Year Round
$1000
No limit on hogs
Turkey Hunt
March - May
$250 per day
plus $250 per bird
2 Day Turkey & Hog Hunt Combo
March - May
$1000
$1250
1 Turkey
2 Turkey
Exotic Hunts
Year Round
$250 per day
plus kill fee
Additional Days
$250 per person
per day
Full Taxidermy Service is also available for all our exotic, whitetail and game hunts through Rafter T Taxidermy.
For those of you flying in, airport pickup and delivery is available to and from San Antonio International Airport $200 per person.
Special Note: Texas resident or non-resident hunting license is required for some hunts. Please refer to the Texas Parks and Wildlife website for complete license information & pricing.
Refund Policy:
A written contact will be provided between Jody Starr Outfitting and the client. A 50% deposit is required before your hunt can be booked. The balance is due when you arrive in certifiable funds. Deposit is refunded or re-booked with 14 days of cancellation.
Copyright© 2015
Victoria Web Design